LINEAR AXES AND THEIR FIELDS OF APPLICATION
Linear axes and complex multi-axis systems are indispensable in today's industrial world, and they play an increasingly significant role in machine construction. To ensure that you can continue to meet your challenges to your customers' complete satisfaction in future, we provide products of the highest quality and an experienced team that has realized countless projects involving customized axis systems in all industries.
From the design phase to start-up – you will receive optimal support and benefit from 30 years of experience. As a result, you ensure that you get a comprehensive solution that is customized to your needs within a short period of time.
Comprehensive needs assessment and advice
Project planning and proposal preparation in 1–2 days
Manufacture and delivery within 2–3 weeks
Unlimited individualization
On-site training and support
Premium quality without compromise
Ongoing customer service
Here you can see possible fields of application in which our products represent essential added value for you in the respective branches of industry.
Are you thinking about efficient picking and warehousing systems, and need a high degree of flexibility in matters of space planning and warehouse volumes?
If so, you've come to the right place. We'll manufacture your custom linear axis to your exact requirements regarding optimal room size, operational reliability, and warehouse and throughput capacity.
Industrial robots have to reliably carry out highly dynamic and automated motion sequences at a consistently high level of quality. Especially now in the digital age of Industry 4.0, the requirements placed on customized and flexible robot systems with ever growing work areas are a high priority. With our linear axes and the concept of the seventh axis, we meet exactly these standards.
Performance and reliability are of vital importance in packaging technology. We provide customized linear axes that offer a high level of safety, and that meet highly dynamic and precise requirements without difficulty. Short cycle times and high productivity secure the competitive advantage.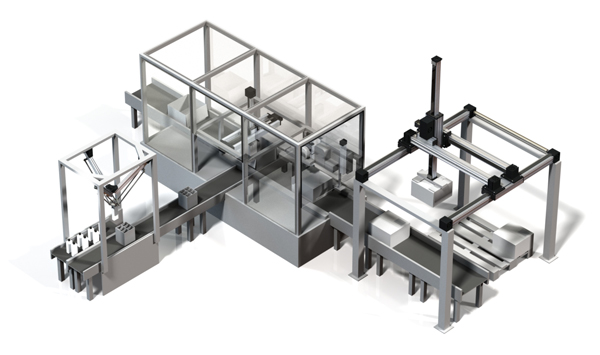 Efficiency and productivity are key characteristics for machine tools. These must be able to work precisely and reliably even under critical conditions. With linear axes by Bahr Modultechnik, you can speed up your design process and fulfil the growing demands of the market. We will be happy to help you with the design of your linear axes.
Customized system solutions are increasingly required in order to complete specific automation tasks relating to Industry 4.0. We provide tailor-made solutions for your needs with the highest level of continuity and reliability, and minimal maintenance. The productivity of your machine is boosted thanks to reduced downtimes.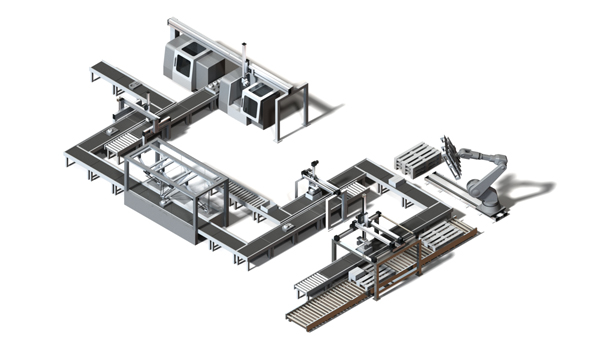 3D printing demonstrates your strengths where conventional manufacturing has reached its limits. These manufacturing processes are often used in prototype construction, for components with a high degree of customization, and with complicated geometries. Our linear axes fulfil the requirements of 3D printing machines in terms of precision, dynamism, and operational reliability. Outdo the competition and turn your ideas into reality.
Optimized manufacturing in clean rooms and controlled areas. More and more importance is assigned to the cleanliness of working environments. From individual rooms to complete production sites, the particle concentration in the air must be kept very low and constant conditions guaranteed. Our linear axes are certified EN, VDI, and ISO, and thereby meet the high quality standards of clean room technology.
Safety is particularly important where flammable substances are processed. The appropriate permits and certifications are therefore necessary for explosion-proof equipment.
Our linear axes are certified in accordance with the ATEX guidelines and thereby meet the high safety requirements for the explosion protection field. Play it safe with us.
The electronics industry makes up a growing proportion of the value-added chain in industry. In process and plant technology, mechanical components are increasingly being replaced by electronic components, or are at least being controlled by them. This leads to increased complexity and safety requirements. With our customized linear axes, you can meet this challenge. Precision,continuity, and reliability secure the competitive advantage.
Facilities for the chemical and pharmaceutical industry must meet the highest quality and safety standards over the complete lifecycle. And that's exactly what we offer. Our linear axes are ATEX certified for areas of application such as vacuum technology, clean room technology, and explosion protection. Take advantage of our customized solutions of the highest quality and precision.
Palettizing systems with integrated handling create automated processes and handling that is gentle on parts for optimum quality. These are required to carry out linear movements precisely and reliably, and to be space-saving and easy to integrate into existing structures. A high degree of flexibility is therefore vital. We supply linear axes and multi-axis systems that meet exactly this requirement.
There are a huge number of processes that require coordination on an automobile industry assembly line. Expanding the product portfolio and regular model maintenance call for a high degree of speed and flexibility. We provide customized solutions for the assembly process with fast delivery times at attractive prices.
Do you have any questions?
We will be happy to advise you. Simply contact us via our contact form.