BikeLift - GGT90 and GDGT90
The new lightness in the bicycle workshop
A 230 volt socket is all you need to experience a new easiness in the bike workshop. The new electric bike lift made by Bahr Modultechnik stands independently and securely on the floor and can be connected to different holding fixtures – such as ParkTool.
Our contribution to better ergonomics in the workshop follows the trend that bicycles gain more and more importance, especially in urban environments. There is something going on on the cycle paths – and in the workshops as well. Cyclists who want to ride safely and smoothly for as long as possible should regularly give their bike into the hands of an expert – whose workshop is preferably just around the corner, in the middle of the pedestrian zone. On the one hand, a good order situation will result in certain waiting periods, on the other hand it requires fast and ergonomic workflows.
This is the point where Bahr Modultechnik comes in with its new bike lift. The electrically driven mounting stand makes the work in the workshop easier and more ergonomic and, in addition, it makes space available when used in the double configuration. The space saved can ideally be used for a second workstation.
More Comfortable Repair and Service
More comfort on the road, better ergonomics in the workshop. Everybody wants to ride a smooth-running bike. With its new bike lift, Bahr Modultechnik has developed a system that provides bike workshops with highly available, robust and accurate industrial technology. This solution makes service and repair work noticeably faster and easier.
Take up bikes directly from the floor and lift them to the desired work height.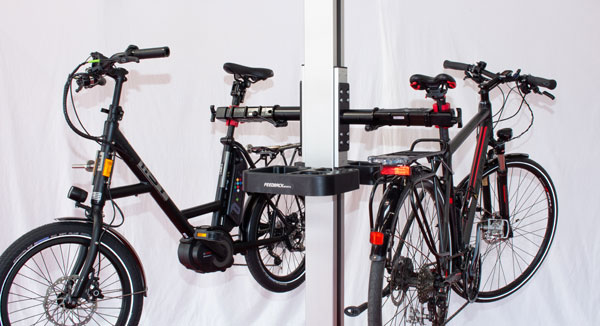 for e-bikes and bicycles
flexible pick-up and holding systems
single and double workstations
low noise and little maintenance
space-saving due to compact design
highest reliability & operational safety
the drive is protected from water, grease and dust
modular mounting through the bottom plate, anchoring to the floor, wall or ceiling
soft starts and stops thanks to frequency converter
hand or foot switch or remote operation
variable work height, lift height up to 260 cm
ergonomic and back-friendly
Explore your possibilities. Find your road to success with our technical staff.
Your contact person is
Mr. Savas Su.