At Bahr Modultechnik, everything revolves around custom-designed drive solutions and the perfect integration of modularly constructed linear axes into our customers' machines. Ultimately, it is all about our customers' needs and wishes. Based on that, we work with you to develop customized linear drive systems efficiently.
For us, service means providing collaborative support to machine builders and manufacturing companies from the early engineering phase onwards, and gaining a deep understanding of the application.
Linear axes based on your ideas.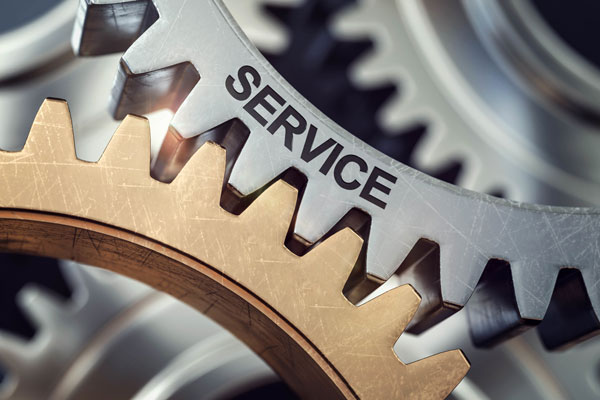 Engineering: Service from the outset
Listening attentively to the other party, understanding the issue in detail and, above all, knowing what's possible. The best drive solutions can be realized when we are involved on the engineering side of projects from an early stage. As specialists in linear drive systems, we thereby have the opportunity to apply our expertise and make good machines even better.
Our engineering service includes:
Advice: We will provide you with support in the areas of application, product selection, and designs.
Project planning: 3D models, drawings, and calculations included as part of our quotation.
On site: Project support from our experts on site at your location.
Special service: In emergencies, we can manufacture your linear technology within one working day.
Linear axes individually made to measure
We custom manufacture linear axes and multi-axis-coordinated drive systems out of a modular construction kit for our customers – thereby retaining all the advantages of standardization. To achieve this, we work with high-performance CAE systems and produce the axes on modern CNC machining centers.
The benefit for you: Our linear axes fit precisely onto your machine – not vice versa. As a result: You have more freedom when designing new machines and systems. Due to the high degree of automation, we can deliver customized linear axes in a timeframe that is usually only possible for stock goods – and all for a comparable price.
This equipment makes your solutions possible:
High-quality and efficient machinery
Mazak 3-axis machining centers
Mazak 5-axis machining centers
Mazak turn-mill center
Pressta Eisele automated saws
Are you faced with special tasks and would appreciate having experts in linear drive technology by your side as a partner on the project? Bahr Modultechnik provides you with comprehensive design and development support. We work with cutting-edge CAE systems – and as a result, it is easy to integrate our work into your project. Above all else, the focus is always on the ideal linear axis, which we conceive, design, and build to be perfectly geared for your task. Of course, the range of products includes complex multi-axis applications.
We offer you these possibilities:
Customer-specific project development with SolidWorks
Static and dynamic analyses using FEM
Lifetime calculation
Analytical component design
Component optimization
With the PARTcommunity download portal by CADENAS, you can quickly and easily download CAD models. You thus make the linear axes usable for your design immediately. The 3D CAD models conform with leading international standards and are suitable for common CAD systems such as CATIA, Autodesk, Inventor, SOLIDWORKS, CreoParametric, NX, AutoCAD, Solid Edge, etc.
Individual and flexible packaging solutions
AEO certification for air freight
Optional wood packaging in accordance with IPPC standard
Automated tariff and local customs processing system ATLAS
In emergencies, delivery within 24 hours in Germany and within 48 hours internationally
Thanks to our ERP system, we operate an efficient value-added process and a constantly optimized management of operational procedures. We guarantee:
High quality and productivity
High availability thanks to optimal warehouse stock levels
Short delivery times by reducing order lead times
You can expect a range of services after purchase. We offer:
On-site customer support
In emergencies, delivery within 24 hours in Germany and within 48 hours internationally
Maintenance and repair service
Product and service training
Do you have any questions?
We will be happy to advise you. Simply contact us via our contact form.